Evergreen Landscapes is committed to creating and maintaining the garden of your dreams. Our goal is to create the outdoor paradise that reflects your personality and preferences.
Imagine a visitor's sense of wonder as you show off your beautiful garden as they walk down these remarkable stone steps. Stone steps are awe inspiring, and will add value to your daily life, such as in the morning when you are enjoying a fresh cup of coffee before work, or in the evening when you are reflecting on the day's events. We source our stone steps so they blend in with your landscape and enhance your garden. You can choose anything from weathered and uneven stone steps, to smooth and properly leveled stairs.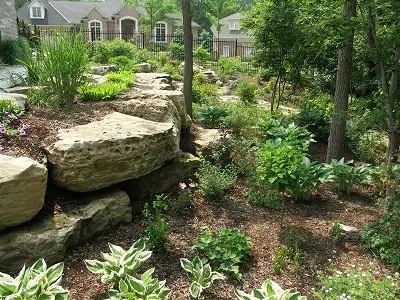 Armour Stones are large quarried blocks that are often uncut and used for retaining walls, barriers, or to serve as an accent to your garden. There are dozens of possibilities for armour stone as they come in a variety of unique shapes, sizes and colours. Even though the stone itself might look rough, it is quite resistant to wear and erosion.
Evergreen Landscapes can find you the right plants to complement your garden during the various phases of all seasons. There are so many regional differences that stretch from Hamilton, past Burlington and into Oakville; we can find you the right plant to make the right statement. For example, if you live near lake Ontario you may have a cooler climate from the lakeshore effect and might require different plants then you might in the heart of Dundas where it is often a little warmer. We look at all of these factors when deciding upon plants for your garden, and then choose the best options to enhance your outdoor living experience.
Ground Cover refers to any plants that grow close to the ground. With our landscape construction we generally use ground cover to improve the appearance of a garden in that it can define natural pathways or conceal bare earth. As well, we use it to protect against erosion, weeds, and drought. There are hundreds of unique ground cover plants, such as moss, ivy, lilyturf, periwinkle and juniper that are availble to you.
ENDLESS GARDEN POSSIBILITIES
Evergreen Landscapes can install ponds (with or without fish), waterfalls, small streams, stone walkways, or anything else your heart desires. We have decades of experience as Hamilton and Halton's premier garden developer and maintainer. We can arrange various maintenance plans for your garden, such as weekly visits, or touch ups for that surprise birthday party or anniversary you may be holding.
Please feel free to view our garden gallery, or contact us to arrange a meeting to discuss your gardening ideas.
READY TO IMPROVE YOUR LANDSCAPE?
Let's Talk!
An award-winning Landscape Design Company for many Southern Ontario landscapes since 1984. Specializing in designing and installing creative, functional landscapes for Burlington, Waterdown, Aldershot, Dundas, and Ancaster.