Picture yourself in your backyard on a bright sunny day cooking on your new stone outdoor kitchen and having your family and friends all together for a meal. Evergreen Landscapes can make that picture a reality.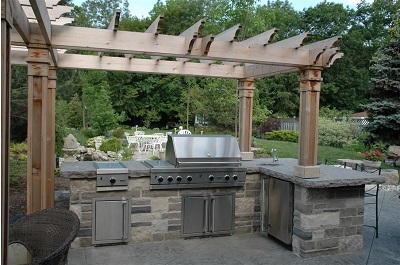 Evergreen Landscapes can build a beautiful stone outdoor kitchen for your home that encompasses both stone and stainless steel. Any kitchen appliance you desire, from ovens, sinks and grills can be installed.
Barbecue all year round with a durable stone platform, and a covered ventilated outdoor grilling space. A sheltered cooking area keeps the snow and rain away, so you eat at home more, rather than giving you an excuse to get take-out.
BUILDING OUTDOOR KITCHENS
Evergreen Landscapes can build the ultimate backyard kitchen to meet your needs and desires. Your investment will pay for itself quickly, as eating fresh food at home can save you money, and add years of quality to your life. Please feel free to view our gallery of past work, or contact us to arrange a meeting to discuss an outdoor kitchen for your home.
READY TO IMPROVE YOUR LANDSCAPE?
Let's Talk!
An award-winning Landscape Design Company for many Southern Ontario landscapes since 1984. Specializing in lawn care for Burlington, Waterdown, Aldershot, Dundas, and Ancaster.