From outdoor stone patios to interlock pavers, Evergreen Landscapes can create a patio environment that matches your property and lifestyle.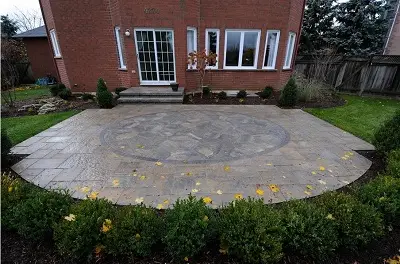 Evergreen Landscapes works with your vision to create a landscape design that will turn your backyard into a masterpiece. Mix and match various textures, colours, and materials of stone to create a space that's uniquely yours. Stone patios offer class and style while also being durable and weather resistant.
From sandstone to limestone to granite, choose a stone option that's as impressive as your home! Stone is the perfect foundation for trendy outdoor spaces, and we use only quality and high-end stone materials sourced from trusted quarries. Our stone is precision cut for optimal performance and ease of installation.
When working with our landscape designers, we'll help you design the perfect patio for friends and family to gather. We specialize in landscape construction, and we have many years of experience building outdoor stone patios and landscapes from start to finish.
Make your backyard space an extension of your living space by adding an interlocking stone patio. Natural stone is a time-tested material that's commonly used when designing an interlock backyard. Easily enhance your landscaping while using this natural, reliable product to design your entertaining area.
One of the most common patio material choices is flagstone. These flat stone slabs come in rectangular and square shapes and can be easily customized to meet your design preferences.
Evergreen Landscapes listens to your needs and builds you a patio that suits your lifestyle. If you appreciate solace, our patio design and construction might be more intimate. In contrast, if you enjoy entertaining guests, you'll benefit from wide-open spaces and a beautiful stonework patio.
Evergreen Landscapes offers landscape contract work for residents in Oakville, Aldershot, Burlington, Hamilton, Dundas and Waterdown. We have the machinery that can move heavy stones into their proper location. As landscape experts, we do the work in a manner that's efficient and timely.
CIRCLE PATIO DESIGNS WITH INTERLOCK PAVERS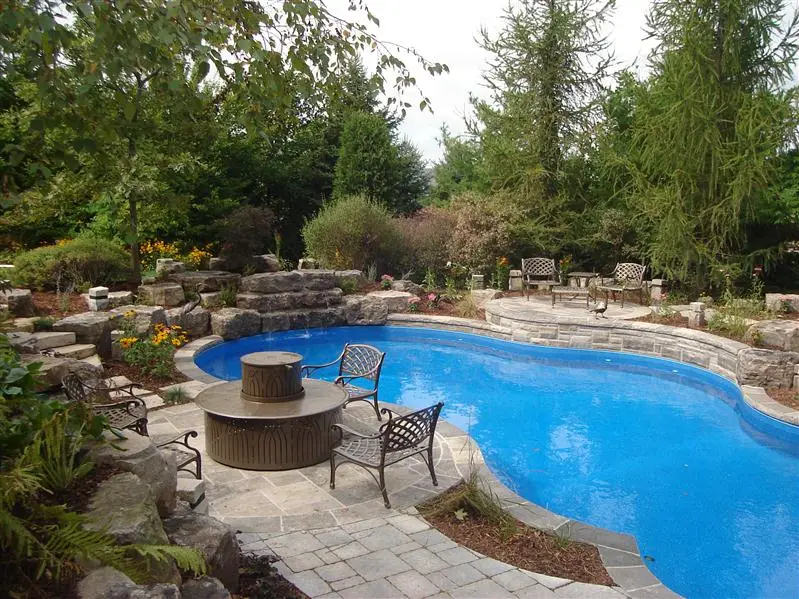 Our homes are typically linear, but our patios don't always have to be! Evergreen Landscapes can design and build circular patios and create intricate designs and inlays that will impress you with their elegance and beauty.
Circle patio designs provide balance, flair, and emphasis to an outdoor area. They offer a sense of being interconnected, allow easier traffic flow, and provide comfortable social interaction. Their lack of corners allows them to use fewer materials than square patios of equal useable size.
When designing your circular patio, we'll use unique wedge-shaped paver stones to make the patio perfectly round. These stones are available in a selection of colours and textures, which can be mixed and matched to form an attractive design.
A circle patio design makes a bold statement and is well-suited for a fire pit or stunning focal point. Our extensive selection of landscape rock and patio stone makes it easy to design a patio that you will love for years to come.
BENEFITS OF NATURAL STONE PATIOS
Many people love the beautiful look of natural flagstone patios as it reconnects them with nature. Others love the design of interlocking pavers and the intricacy of patterns that emerge.
Stone patios offer a number of other benefits:
Stone Patios are resilient to scratches, stains and fading
Stone withstands the elements and will not rot or decay
Stone is safe to grill on as it will not catch fire
Stone Patios make a wonderful companion piece to Outdoor Kitchens
Stone is durable and offers an upscale look to your landscape.
Stone is available in a wide selection of colours such as grey, red, brown and more
Evergreen Landscapes in Waterdown Ontario can help you create the perfect patio area for you and your family's enjoyment. Visit us online today to see our product gallery! Call us today for more information on how we can transform your outdoor space into a new stone patio you will enjoy for years to come.
Please feel free to view our patio gallery, or contact us to arrange a meeting to discuss your patio ideas.
READY TO IMPROVE YOUR LANDSCAPE?
Let's Talk!
An award-winning Landscape Design Company for many Southern Ontario landscapes since 1984. Specializing in designing and installing creative, functional landscapes for Burlington, Waterdown, Aldershot, Dundas, and Ancaster.