We will work closely with you to achieve the perfect nightscape your property deserves.
At Evergreen Landscapes we always take into account the key points of great design and placement, as well as style and budget. Please feel free to view our landscaping lighting gallery, and if you're ready to get the very most out of your yard day or night… Give us a call!
WHAT OUTDOOR LANDSCAPE LIGHTING CAN DO FOR YOU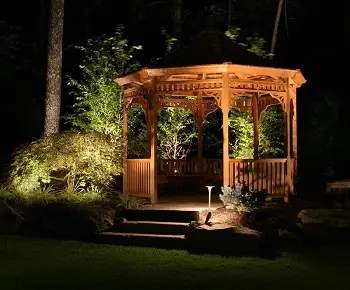 After the sun has set… your yard will come to life with the beauty and glow of dedicated landscape lighting! When designed and installed properly, some yards will even appear more dramatic at night than in the day. With lighting, you can pick and choose the areas you want to highlight, to add drama or simply for safety, navigating steps and pathways. A favourite tree or feature can be tastefully "shown off".
ENJOY THE MAGIC OF L.E.D LIGHTING
Today's advancements in technology means that your property can look amazing without costing very much to operate. We specialize in the latest LED lighting products. Enjoy the beauty of premium fixtures, expertly designed and installed, all while operating for mere pennies a night!
PREMIUM LANDSCAPE LIGHTING INSTALLATION
Our landscape lighting crew at Evergreen Landscapes will install landscape lighting to make your landscape look breathtaking at night, adding additional beauty to your yard. You'll love driving home on evenings and pulling into your driveway to marvel at how picturesque your front yard looks. Your neighbours will benefit as well and will enjoy the beautiful features highlighted with outdoor lights as they are out for an evening walk with the dog.
Evenings in the backyard will also be enjoyable with quality outdoor lighting. We can install landscape lights on decks, patio coverings, water features, and trees, providing a sheltered environment that you can enjoy with family and friends.
One of our landscape light professionals will come to your property to discuss the details of your outdoor landscape in the Burlington, Hamilton, Ancaster, Dundas, Milton, Waterdown and Oakville regions. Designing high-quality outdoor landscape lighting takes special expertise in landscape lighting design, electrical wiring, low voltage control systems design and installation.
Please call us at Evergreen Landscapes for more information about our landscape lighting services.
DAY TO NIGHT LIGHTING TRANSFORMATION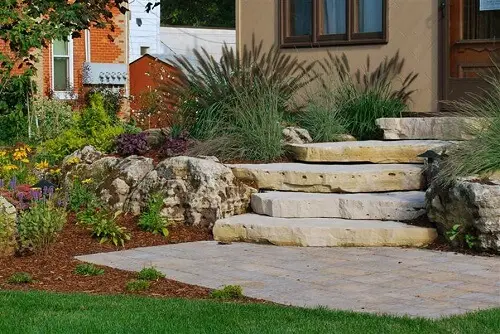 READY TO IMPROVE YOUR LANDSCAPE?
Let's Talk!
An award-winning Landscape Design Company for many Southern Ontario landscapes since 1984. Specializing in designing and installing creative, functional landscapes for Burlington, Waterdown, Aldershot, Dundas, and Ancaster.