Natural stone steps convey a durable and strong impression. When choosing new garden Step Stones, the options are endless as Evergreen Landscapes can use cast products or natural slabs that are indigenous to Oakville and beyond. Stone Steps create a natural looking landscape and are a nice touch to any garden.
NATURAL STONE STEPS | TIMELESS BEAUTY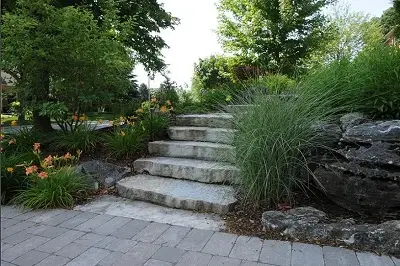 Natural stone steps are durable and stand up to the cruel Ontario winters. Evergreen Landscapes takes the time to install stone steps, so they're secure and will never shift under your body weight throughout the years.
Evergreen Landscapes can install stone steps leading up to your front door for a front entrance makeover. We can install a flagstone walkway leading from your driveway to the entrance to maintain that natural look. Adding natural stone steps will give your guests a warm welcome and make your home stand out from the rest.
The Halton landscape is so diverse and is home to various flora and fauna, which can be seen in its beauty around Burlington and Oakville or at the Royal Botanical Gardens. If your backyard is naturally sloped, you are the perfect candidate for stone steps leading from your house to your garden. Evergreen Landscapes has the tools and machinery to properly place these heavy stones in the perfect spot. Apart from landscape construction, we also maintain your property, so your stonework always looks its best.
Adding garden stepping stones is a great way to enhance your landscape, and Evergreen Landscapes can help you choose the right type of stone for your needs. Furthermore, natural slabs and flagstone can also be used around the patio area, pool deck, outdoor kitchen area or anywhere you see fit.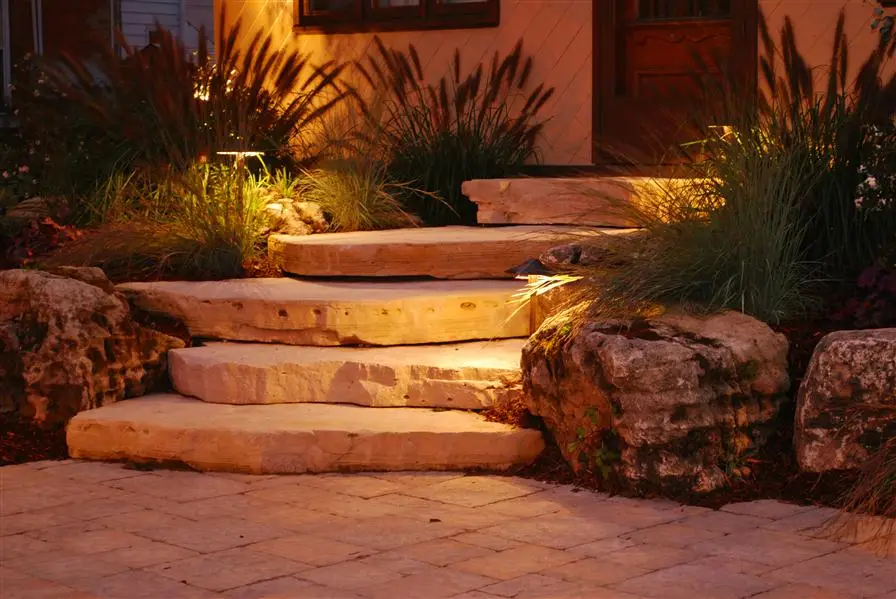 Natural stone is a timeless material that creates an elegant and classic look for your outdoor space. A variety of colours and thicknesses of natural stone can be used to suit your style.
Reduce stress and add years of quality to your life by coming home to a backyard paradise. It's hard to be stressed when you have a beautiful garden to decompress and relax in. Stone steps are durable and require very little maintenance. Unlike wood, they won't rot, bend, swell or shift.
Evergreen Landscapes deals with top-quality stone suppliers and stands behind stones that are easy to maintain and will not chip or crack.
Whether it's your backyard or your front porch, trust Evergreen Landscapes to build stone steps for your home.
Please feel free to view our gallery of past stone step projects, or contact us to arrange a meeting to discuss stone steps for your backyard or home.
READY TO IMPROVE YOUR LANDSCAPE?
Let's Talk!
An award-winning Landscape Design Company for many Southern Ontario landscapes since 1984. Specializing in designing and installing creative, functional landscapes for Burlington, Waterdown, Aldershot, Dundas, and Ancaster.