Wooden structures are an integral part of certain landscape designs. Not only do you want an amazing looking yard, you also want it to function as a living space. Evergreen Landscapes can custom design, build and install any wooden structure you desire as well as ensuring it meets all government codes.
Wooden fences are a way of adding beauty and privacy to your outdoor living space. Wood fences are also a great way to safely keeping children and pets on your property. Our wooden fences are durable and can stand up to the harsh Canadian elements. Fencing is also good for controlling shade and wind flow, allowing you to grow and maintain flowers and plants that need a little extra protection. Flowers and plants receive extra protection from deer, provided your fence is built high enough for them to jump over it.
A wooden fence is also ideal for dog owners, as the fence will keep your pets safe within your backyard living space. Wooden fence boards prevent your pets from seeing your neighbours or passer buyers, meaning less barking from your furry friend.
Evergreen Landscapes can also incorporate a beautiful wooden gate into your fence, offering access to the backyard and providing you with that extra layer of security. The possibilities are endless for our talented team of landscape carpenters in terms of the size, colour and style of your wooden privacy fence. We will also consult with your local bylaws to ensure your fence height complies with the local law as different municipalities have height restrictions on how tall a fence can be. For example, interior lots in Burlington have a maximum fence height of 2m, except within 3m of the front property line, where the fence can not exceed 1.2m. Furthermore, corner lots have further restrictions in height.
Contact us today for a professionally built wooden fence that will provide curb appeal for decades to come.
Pergolas and arbours offer beautiful shaded sitting areas and walkways. Meanwhile, a trellis is an open lattice of interwoven or intersecting wood pieces that encourage the growth of climbing plants such as vines, ivy or roses.
Evergreen Landscapes can build an attractive wooden privacy trellis to serve as a sturdy barrier between yourself and the outside world using fence trellises or as an independent garden trellis. Custom built wooden trellis structures can also be built over patios to provide much needed shade and privacy during the hot summer months.
Vertical garden trellises can also be incorporated to provide privacy to windows, while still giving you a beautiful seasonal view. Furthermore, strategically placed wooden trellises can hide or camouflage unsightly features such as utility pipes and equipment for your hydro or gas service.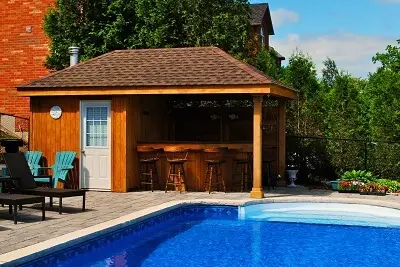 Pool owners enjoy cabanas as it offers storage for pool equipment as well as a convenient place for guests to change. Even if you don't have a pool, a cabana offers a relaxing shelter to enjoy a cocktail or coffee in the rain, or a peaceful spot to curl up and read a book.
Houseguests will love laying out by the pool under these beautiful wooden Patio Cabanas during those hot summer days or shaded areas while enjoying dinner al fresco at night. Furthermore, the solid wood construction ensures that the patio cabana won't blow away in heavy winds or get damaged during a storm.
If you are tired of looking at your rickety old pool shed or sick of storing your pool equipment far away in your garage, allow us to build a pool cabana for your home. Our pool houses are custom-built and professionally installed so you can enjoy poolside comfort for decades to come.
Please feel free to view our gallery of custom wood structures to arrange a meeting to discuss putting a wooden structure on your property or backyard.
READY TO IMPROVE YOUR LANDSCAPE?
Let's Talk!
An award-winning Landscape Design Company for many Southern Ontario landscapes since 1984. Specializing in designing and installing creative, functional landscapes for Burlington, Waterdown, Aldershot, Dundas, and Ancaster.